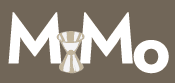 I'm MxMoing! This isn't a real cocktail blog (making of, plenty about drinking) and I've never participated in MxMo before, but I was strangely inspired this month by RumDood and ginger. I'm a fine drink maker, I think (in normal people's company I'm fantastic!) but I leave the mixologisting to Craig. My real love is preserving – pickles, jam, whatever I can put into a jar. I thought I'd up the usual cocktail blogger penchant for requiring a complicated homemade ingredient (you know, make your own cola to make a Jack & Coke) and use proper homemade jam in a cocktail.
I have to first tell you I am a preserving snob: freezer jam is useless, refrigerator pickles can suck it. If it can't sit in your pantry, I don't see the point of preserving – you might as well freeze it. I'm also hopeless when it comes to following a recipe - I simply must improvise something. I had been carrying around this recipe for May Day Jam (rhubarb, strawberry and pineapple) for a while and one day I was inspired to make it. After I'd chopped up the strawberries and rhubarb, I looked around for the pineapple. But it had disappeared (into a tiki drink no doubt). No matter! We had a strangely large quantity of fresh ginger (falernum week), so I chopped up a mess of that and added it. The jam came out gorgeous pink and wonderfully gingery. It was the first thing I thought of when I heard the MxMo theme.
The cocktail is based (loosely) off of a 1930 Savoy recipe - Pink Baby Cocktail. Craig and I collaborated a new drink which he named the "Pinko Cocktail."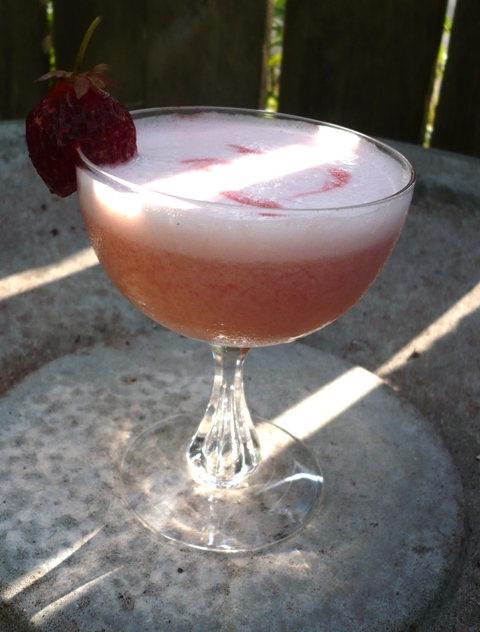 Pinko Cocktail
an egg white
3/4 oz lemon juice
1.5 oz gin (we used Bols Genever)
1 heaping barspoon June Ginger Jam (recipe follows)
2 dashes Peychaud's bitters
Combine egg white and lemon juice, dry shake (or froth with frother). Add gin, jam and bitters and shake with ice. Double strain into a Charles cocktail glass.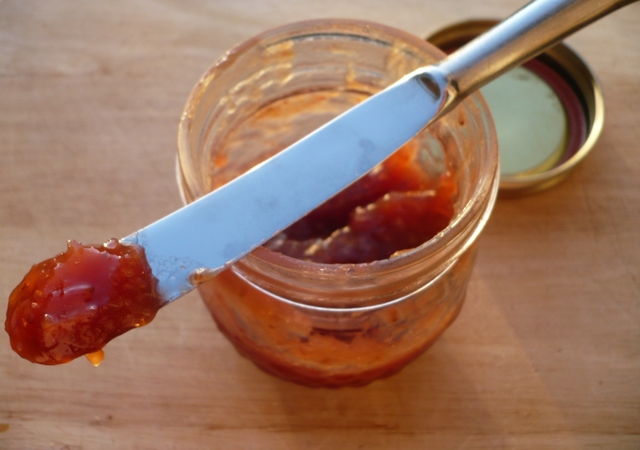 June Ginger Jam
It goes without saying this is only to be made when strawberries are in season. I had to say it anyway.
2 cups diced fresh rhubarb
2 cups whole strawberries, washed and hulled
A good knob fresh ginger, peeled and diced fine.
4 cups sugar
zest of one lemon
juice of one lemon (hold onto that until the end)
Combine all except lemon juice and let stand 15 minutes. Bring to boil over medium heat, stirring frequently, until jam thickens (15-30 minutes). Boil gently (watch out, hot jam is like napalm!) for 5 minutes, then add lemon juice. Laddle into hot, sterilized jars and process 10 minutes in water bath.

Let sit in a jars a couple of weeks to allow the flavor to develop. Enjoy on toast, pb&js or in cocktails!

\